VeChain will host its first Summit in San Francisco on April 18th, 2019. The Summit will bring together people from all over the world to discuss and create Solutions on the VeChainThor Blockchain.
Through a day packed with VeChain product releases, expertise and insights sharing, interactive tutorials as well as immersive entertainment, the VeChain Summit 2019 will provide the participants with a unique look on the VeChainThor blockchain platform.
The Summit Agenda and Speakers
The one-day Summit will kick off with an opening speech by VeChain's CEO Sunny Lu.
Throughout the day more team members of the VeChain Foundation will share insights or talk about Developing on the VeChainThor platform:
Peter Zhou (Chief Scientist) and Jianliang Gu (CTO) will explain why the VeChainThor blockchain is built for mass adoption and will give an introduction to the Tech and Turnkey enterprise solutions VeChain has to offer.
Kevin Feng (COO) together with the core Developers will introduce some of the essential tools like Connex and Sync to start building decentralized applications on the VeChainThor Blockchain.
VeChain's General Managers of the South East Asian (Sarah Nabaa) and European (Jerome Grilleres) will discuss how businesses can integrate blockchain in their companies.
In the Afternoon VeChain's partners will come on stage to discuss how they are using the VeChainThor blockchain.

Announced speakers are Luca Crisciotti (CEO at DNV GL Business Assurance) and Cihan Albey (Leader at IT Tech, BMW Group Singapore), with more to come soon.
This year the summit is specifically crafted to bring developers, academic professionals, startups, business decision makers and venture capitalists together to collaborate, partner, and build solutions that create valuable transactions on the VeChainThor Blockchain.
In the late Afternoon, some of the projects running on the VeChainThor blockchain will have a session. Already announced are Totient Labs, OceanEx and Safe Haven.
Throughout the day VeChain will release new products, allow participants to take part in interactive tutorials and go hands-on with VeChain powered products.
VeChain Developer Bounties and Application Development Challenge
In order to boost the application development and make people aware of VeChainThor blockchain's features, VeChain has announced three ongoing developer bounties and the Application Development Challenge.
The Application Development Challenge
Develop an application on the VeChainThor blockchain platform and submit it to get a chance to win a share of a total of 40M VET.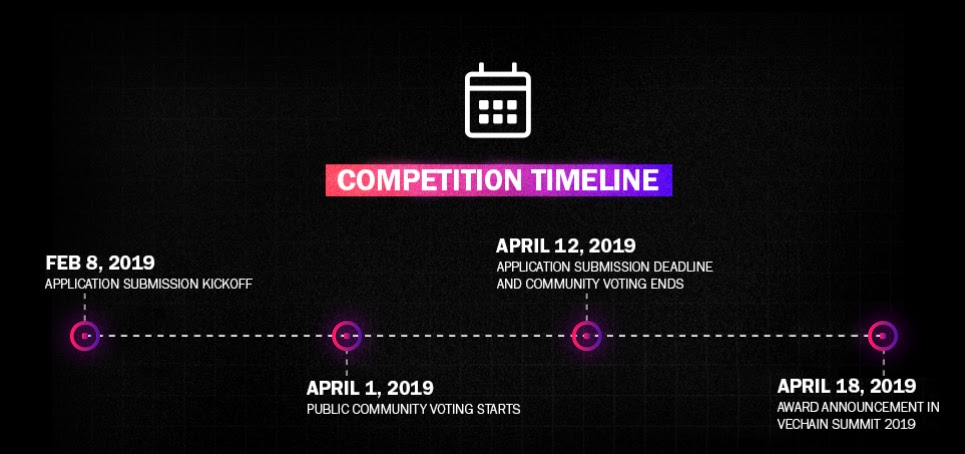 The community can vote for their top 5 favorite applications and the Foundation will select 3 winners.
The winners of the Application Development Challenge will be announced during the VeChain Summit on April 18th.
Developer Bounties
The Foundation is also running a bounty program to support and motivate developers that are planning, designing or willing to document their applications.

Application Idea Hunt – Submit an application development plan and be rewarded with 100K — 1M VTHO for an easier start for the development
VeChainThor Supercharger – Plug in your MPP-enabled application to the VeChainThor Supercharger, a program that sponsors the user transaction fee of your developed application for one month.
Developer Academy Bounty – Share your development documentation, scripts or tools to help out other developers and get rewarded.
Sign up for the Summit now!
To take part in the Summit, go to https://summit.vechain.com/ to buy your ticket now. You can buy a ticket using VET or dollars.
VeChain Summit 2019 is now open to register. 50% off to X Nodes.

Register and receive your unique pass embedded with NFC chip used in our one-day immersive VeChainThor experience at Fort Mason, SF on Apr 18. #CreatingValuableTXshttps://t.co/wq64amJC4h

— VeChain Foundation (@vechainofficial) March 7, 2019
A ticket costs $99 (early bird 30% discount for $69 available until March 21), while students can attend for free and X-Node holders get a 50% discount on their ticket.