On the 24th of November 2019, VeChain's CEO Sunny Lu took some time to answer questions asked by the community.
Below you can read our summary of the most important information shared by Sunny Lu.
Sunny starts of by mentioning that he has been really busy flying everywhere and giving keynote speeches, but that he is glad to be able to talk to us directly and answer the questions we as the community have.
Q: Can you provide more insight on a timeline as to when the Carbon Credit System will be operating in San Marino? It is my understanding the "token" will launch the first half of 2020. Is this the same time frame San Marino will be up and running 100%?
VeChain has signed two MOU's that cover three ecosystem projects in San Marino. The first project is called the Sustainability Development Goals (SDG) platform and is bigger than just Carbon Credits. The second project is to create the infrastructure and legislation for a blockchain ecosystem in San Marino, allowing projects to launch ICO's and IEO's in a legitimate way. San Marino is building an environment for those projects that want to focus on blockchain technology.
VeChainThor Blockchain was selected by #SanMarino to host the country's blockchain transactions and the San Marino Innovation Token, a utility token. We will work diligently with @DNVGL and @sanmarinoinnova to help build the first #carbonneutral country. https://t.co/yJvRaIYOB0

— VeChain Foundation (@vechainofficial) July 25, 2019
The third project is called SMIT, the San Marino Innovation Token. It will act as a value carrier for the projects in San Marino.
Currently, the MOU's have been finished and together with OceanEx and DNV GL multiple workshops have been held together with San Marino Innovation. While also working with enterprises and banks. The target is to launch in Q2 2020, but it will depend on the progress made in the upcoming months.
Sunny hopes he can combine the go-live of San Marino with the VeChain Summit 2020.
Q: Do you think blockchain technology (like Vechain) will be implemented in (EU) law & ISO certification for Food safety and anti-counterfeiting? And companies/governments will only trade/deliver to other companies/governments which have a secure Vechain blockchain protocol in their workflow?
It's not "I think", its something that VeChain currently is already doing and has been doing for the past few years. Examples are My Story for Italian wines together with DNV GL and DNV GL's global certification service running on the VeChainThor blockchain.
Q: What's the status of Walmart China at the moment? Did the pilot end and is Walmart getting ready for launch soon?
Sunny mentions that last Monday he had a meeting with the team from Walmart China. Walmart is very happy with the results they have seen so far.
The target still is to expand to 100 different product lines before the end of this year and so far Walmart is on track for this.
PwC is helping a lot with onboarding new suppliers on the platform, by talking with the suppliers and integrating the blockchain technology in their current processes.
Sunny hopes to see a more global collaboration on the Walmart platform very soon.
Q: You name-dropped Diageo, anything you can tell us about this partnership?
Diageo is using blockchain technology to make their whiskey bottles collectibles.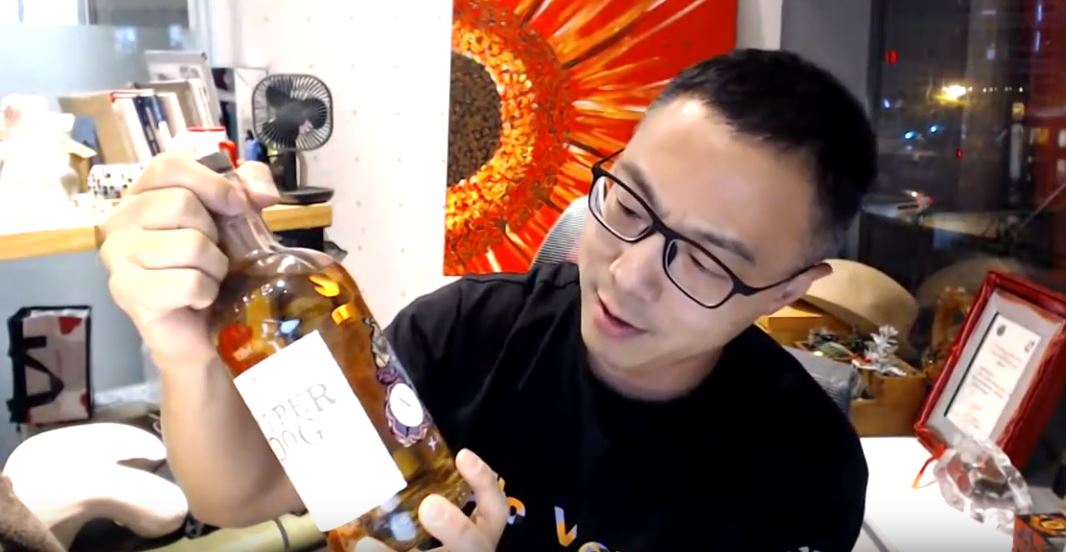 Diageo is happy with the results of the first batch (which completely sold out) and they are now looking into how to integrate digital marketing and improve their client relationships using ToolChain.
Q: Can you provide some insight on how the partnership with Shanghai Gas/ENN came about?
The transportation of Gas is dangerous and safety is very important. By utilizing Blockchain and IoT technology, they can monitor the entire supply chain. From storing the gas, to tracking the gas on its way to their clients, ENN tracks the entire life cycle of the gas using the VeChainThor blockchain.
VeChain partners with Shanghai Gas and ENN to pilot blockchain-enabled Liquified Natural Gas solution prior to national roll out.https://t.co/CUtMbQbSUW

— VeChain Foundation (@vechainofficial) November 1, 2018
Shanghai Gas and ENN have been very happy with the results of the first phase and are now working towards phase two, which will integrate Blockchain technology into their processes even further. Their idea is to leverage the data collected to provide more business value by providing the data to insurance companies and auditors.
Q: We haven't heard from a lot of projects for a long time (DB Schenker, vaccine tracking in china etc.). Are all these projects still active ?
VeChain is still working with DB Schenker, they are having workshops together to continue to explore how to leverage Blockchain technology.
The Vaccine tracking project together with DNV GL is also still ongoing, but it is taking a longer time than everybody expected. Because of the topic regulations are very strict and risks are high in healthcare.  VeChain needs to be extremely careful and discreet in projects like this.
On the other hand, you have projects like Givenchy. VeChain has been working with Givenchy since 2016 and currently, 100% of all leather products are traced on the VeChainThor blockchain. Next year they will expand to ready-to-wear products and sneakers. VeChain's target is to cover 100% of Givenchy's products.
Different use cases take different time, but so far there have not been any failed partnerships in which the collaboration with VeChain has stopped.
Half an hour into the 90 minutes long AmA Sunny took some time to talk about the struggles VeChain has been having because they have been growing at an extremely hard rate in the past few years.

They are now at a level where they are no longer a small company, and beginning to have the same problems larger organisations have. With offices in 8 locations and 100+ employees, it is sometimes hard to keep efficiency high and everyone aligned. On the other side they are not big enough yet and have really limited resources to handle all the request they are getting.

VeChain currently has a leader position in the blockchain-as-a-service market and it will be a big challenge to stay ahead while at the same time growing fast and scaling up their operations.

Sunny is very confident that they will be able to handle their extreme growth, since the central team is composed out of people who all have a background in professional enterprises like PwC, Deloitte, Louis Vuitton, HP and Bank of America.
Q: Will the 900k customer wallets from DNV GL by Jan 2020 be separate wallets? Or will the 900k customers use one central wallet? How does this work?
This is the most critical project DNV GL currently is working on. The result of this digital transformation is that all of DNV GL's customers will be able to access their certificates stored on the VeChainThor Blockchain using a solution provided by DNV GL.
The 900.000 wallets will be VeChainThor addresses, but Sunny is unsure how DNV GL's customers will be able to access their address.
Q: What is the status of the new blockchain explorer? 
Sunny starts by thanking Fabian for creating his Account Viewer after Totient suddenly decided to turn their explorer offline.
After just 11 days, Account Viewer on https://t.co/9dbOTi1AXx is now LIVE! Inspect with this feature rich wallet/contract viewer accounts on the #VeChain mainnet. Extreme attention to detail. The hard work will continue & new functions + features such as TXs & blocks will follow! pic.twitter.com/g1pRW618wV

— VeChainStats (@VeChainStats) November 1, 2019
It was a good learning experience for the Foundation that a working explorer is part of the key infrastructure of the VeChainThor blockchain. That's why Sunny hopes that more explorers will come online so the VeChain community will never have to be dependent on just one explorer.
The official Blockchain explorer is still a few weeks away, but there are multiple people from the community working on new explorers!
Here is a sneak preview of an upcoming #VeChainThor blockchain explorer currently being developed for the Community. #opensource $VET $XRP $BTC pic.twitter.com/mXSeivKEQb

— VeChainInsider (@vechaininsider) November 16, 2019
Q: Will the Official Explorer contain details on the Authority MasterNodes identities?
Sunny starts by explaining that Libra really showed the impact that legislation can have, and that it resulted in a lot of partners (Visa, Mastercard, etc.) leaving the Libra project. While those partners are key to making Libra a success.
VeChain wants to prevent this from happening and wants to respect the choice of the Authority Node holders. If the Authority Nodes feel they are not ready to publicly come forward as an Authority Node holder, VeChain shouldn't force them to do so.
The threat from hackers is real and potentially extremely damaging to your assets. Thankfully, #HackenAi is here to protect you. $HKN ➡️ $HAI on @vechainofficial with @CREAMethodhttps://t.co/DETQxkNRdr

— Hacken (@Hacken_io) October 1, 2019
Next to legislation, security is another reason. Authority Nodes once out in public will become a target to hackers. Sunny mentions that this is something that the ecosystem project Hacken can help.
Sunny ends by stating that how the Authority Nodes meet the minimum requirements needed to be one will be shown in the Dashboard.
Q: When can we expect the Whitepaper 2.0?
The Steering Committee (SC) has had heavy debates about key elements that will be part of the Whitepaper 2.0. This is why it has not been released until now.
Last week the SC spent a whole day to discuss every debating point left and have decided on each of the points. The on-chain governance and voting mechanisms were part of heavy debates.
The SC has decided to grant more voting rights to Economic Node and X Node holders to allow them to contribute to major decisions.
A brief Introduction to the secure tech of VeKey.https://t.co/MIrgvh5RTE

— VeChain Foundation (@vechainofficial) May 10, 2019
The VeKey has also officially been launched and put in use, currently every SC member has their own VeKey which they use to vote for proposals.
The whitepaper 2.0 will be published before the end of 2019.
Q:  What about the new PoA model?
It's not a new model, but just an improvement on the current model. The three improvements are:
Absolute finality of blocks
A new consensus mechanism to significantly lower the possibility of one node manipulating his rights to produce new blocks
Faster transaction confirmation
You can read more about them here in the article from Peter Zhou, VeChains Chief Scientist:
I just published "Towards Next-Generation Proof-of-Authority Consensus"https://t.co/ibtVn5knJS

— Peter Zhou (@PeterZh47977516) November 23, 2019
The reason for the upgrade is a request from a customer (which Sunny can't disclose yet because of a NDA) from a certain industry that will soon go live.
This one new customer is expected to create hundreds of millions of transactions and will require the Blockchain to handle 1 million transactions from just this partner alone.
Q: What sort of horizon are we looking at for implementation of the on-chain governance model set out in the whitepaper? How important is this model and have you ever been tempted to say 'What we're doing now is working pretty well – do we really need this additional complication?'
Voting will allow all stakeholders to set important parameters of the Blockchain like the VTHO generation rate and gas price using on-chain governance. Once the voting is finished these settings will automatically be adjusted by the smart contract.
The Steering Committee has held debates about voting, since in the last two years VeChain has been under a lot of attacks and VeChain does not want bad actors to cause harm to the VeChain ecosystem by abusing their voting powers.
Sunny mentions two ways to prevent this from happening: 1) Take small steps at a time, not immediately allowing everything to be voted on. 2) Learn from the governance and voting mechanisms in enterprises and governments.
The VeChain voting platform called VeVote will be launched in December 2019.
Q: Can you provide insight into the economic models and forecasting methods used to determine the balance between VTHO tx cost, VTHO generation rate, and current VTHO supply? 
In 2018 the VeChainThor Blockchain did around 500.000 transactions. Currently in 2019 so far the Blockchain already has done 36 million transactions.
Based on forecast Sunny expects to see the number of transactions go x5/x10 in 2020.
What the impact of this will be on VTHO generation and supply and how VeChain monitors this will be part of the whitepaper 2.0.
Q: I'd like sunny to address what Jason said in that forum video about vechain basically charging nothing right now for enterprises to use the network. Combine that with what sunny said about Givenchy and that they'll eventually pay for it.
Customers pay for their solutions and customers also pay for VTHO needed to create transactions. Every company (directly or indirectly) pays for the VTHO consumption they use.
It is correct that the Foundation sometimes gives away a very small amount of VTHO, but this is just when a customer wants to test something out and to lower their barrier to start testing.
What Jason talked about is that other companies in the industry can charge $5 per transaction or setting up a private blockchain for half a million dollars. VeChain is not like that. VeChain wants to make the barrier to adoption as low as possible. 
Q: Is the buyback plan still active? Do what have set purchasing goals for Q4 2019, and Q1, Q2 of 2020? Will previous buyback activity be published in the next financial report?
Yes, the buyback is still ongoing and this will be reported in the financial report.
Sunny wants to emphasize that VeChain can not impact the price by doing the buyback and they have hired an external party to make sure this does not happen.
Sunny ends the AmA with the Quote:
Even as a small startup with limited resources, we can achieve great things