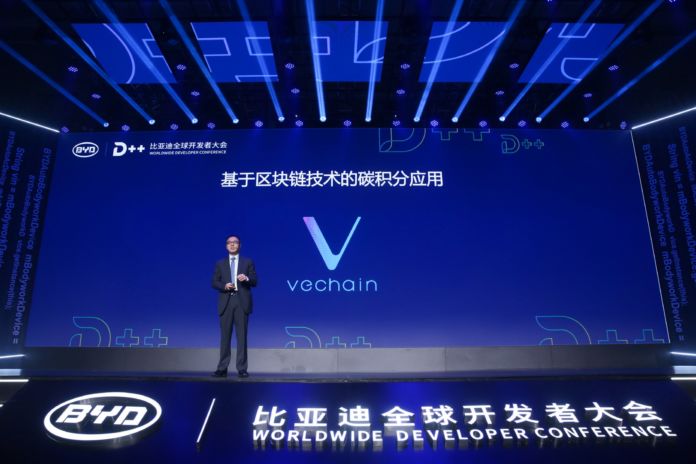 During BYD's worldwide developer's conference on September 5th, 2018, Sunny Lu announced that they are working together with BYD to integrate blockchain powered solutions into BYD's products.
After an initial series of proof of concepts, the current solution both parties have created in cooperation with DNV GL, is ready for mass production and is expected to be used in BYD vehicles before the end of 2018.
About BYD – Build Your Dreams
BYD is the worlds largest manufacturer of electric vehicles and one of the biggest car manufacturers of China. Next to cars, BYD is a leader in the energy storage (batteries) industry. It is estimated that around 50% of all mobile phones in the world have a battery that is produced by BYD.
BYD is currently growing and expanding fast, with a new series of cars to hit the road soon.
Carbon credits
China's CO2 emissions are the highest in the world, mostly thanks to its massive dependency on coal to power the nation.
To lower emissions, the Chinese government has created a national carbon market, called the emissions trading scheme (ETS). The idea is that those who use clean and renewable energy sources will earn credits, while those who continue to emit greenhouse gasses will have to pay for it using carbon credits. This will create a strong economic incentive to enterprises and the population to make the transition to a cleaner source of energy.
BYD and VeChains carbon credit app
Together with DNV GL and VeChain, BYD has developed a carbon credit application which will be installed in BYD cars.
The application will track the driver's performance and usage and reward the user with carbon credits for driving clean. These carbon credits can later be exchanged or used to buy products at a discount.
You can also see a short demonstration of the application in the following video:
Comments on the partnership between VeChain and BYD
Shu Youxing, President of the BYD Automotive Intelligent Ecological Research Institute, stated  "This technology not only improves our current offering but allows us to create completely new markets. The unique aspects that VeChain provides will empower carbon monitoring development and sustainable ecosystems. This solution is a glimpse into what we think we can achieve through this partnership."
Carbon Credits #Blockchain Passes Proof of Concept—Ready for Mass-Production!

Partnership of #BYD, @Vechainofficial, & #DNVGL

1st enterprise lvl application moving the data of millions of cars, buses, trains onto a public blockchain—https://t.co/422TJWAVjs(via @Medium)#Hlod pic.twitter.com/H6BLl4doAy

— BYD (@BYDCompany) September 6, 2018
Sunny Lu, CEO of VeChain said, "As the global leader in green car manufacturing, BYD offered us the opportunity to pioneer real change. It takes innovators like BYD to make the world a cleaner place. Carbon banking will be a new reality for billions."