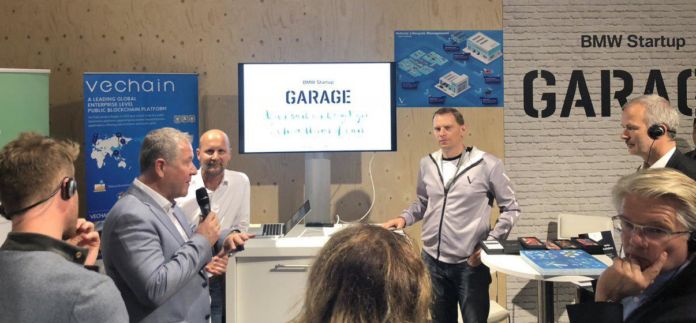 Today, BMW USA has made a public statement saying that they are indeed working together with VeChain.
Sorry for any confusion. VeChain is participating in the BMW Startup Garage programme. As a Venture Client, the BMW Group becomes a customer of the start-up at a time when the product, technology or service is not yet ready for the market.

— BMW USA (@BMWUSA) March 20, 2018
VeChain joins the BMW Startup Garage
VeChain is currently in the startup garage program:
The BMW Startup Garage is a startup's gateway into the multi trillion dollar automotive industry. We are looking to partner and become the early adopting venture client of top startups that can make a difference to innovation @ the BMW Group.

The garage program is your fast track into the automotive industry. It allows you to validate your solution, learn about the automotive industry and network with key decision makers.
Read more about the startup garage on the BMW startup garage website.
There has been a lot of FUD going on if this can be called an actual partnership and if BMW has become a client of VeChain. Just read the next phrase from the startup garage site and make up your own mind:
IV. Acceptance: Final stage is to fine-tune your proposal. At agreement, you join our program and get a BMW purchase order. Congrats! You just gained a new client: the BMW Group.
Team VeChain visiting BMW:
There is a NDA in place so we r not entitled to reveal more. BMW Asia was VERY kind to allow us to reveal their partnership w/ @vechainofficial yesterday. We have to wait till the project is over to share more details, just like the other projects. Kudos to them! pic.twitter.com/URulBVWN4v

— Sarah (@mspandorah) February 27, 2018
Update October 18th, 2018: Internal presentation
VeChain has been invited to present their solution to BMW managers in the ReadyGo programme.
@vechainofficial was invited to present our Prototype to TOP BMW managers in the ReadyGo programme. Electrifying & heated debate on how to bring a PoC to scale & how these leaders hve the power to drive innovation. Thank you for having us on this journey! #GoVeChain @BMWStartups pic.twitter.com/WaFWEuIEBG

— Sarah (@mspandorah) October 18, 2018
Sarah (GM Signapore) stated: "The prototypes solve a real problem & the mgmt team were visibly fired up by its potential. It takes a lot of coordination operationally to scale . We've been working w BMW Innovation for a year now. More updates beyond pilots to come & gd reason why they are our partner."
Update October 25th, 2018: Internal conference
During VeChain's Amsterdam meetup the team announced that BMW has invited VeChain together with two other startups to a big internal conference in Munich next month. During this internal conference, VeChain has a chance to present the solutions they have to offer to all BMW employees around the world.
Great 2 days! #CIOofTheYear @vechainofficial @BMWStartups pic.twitter.com/7qSBRdPXCZ

— Jérôme Grillères (@JeromeGrilleres) October 25, 2018
Update October 25th, 2018: Magazine feature
VeChain and their partnership with BMW has been featured in the November issue of Motortrend magazine.