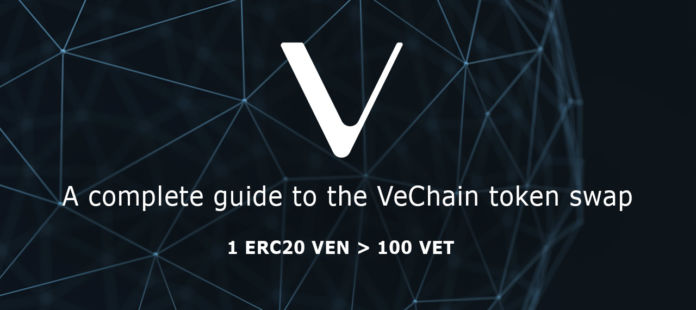 In this guide, we will show you everything you need to know about the VEN to VET token swap and show you a step by step guide on how to swap your tokens.
For the official information from the VeChain foundation on the token swap, please see the following two tweets. In the first Tweet, VeChain explains how to perform the token swap using the VeChainThor Wallet:
Please view our VeChainThor Wallet Manual. This manual provides instructions for token swaps and X Node migration.

The final X Node snapshot of the Ethereum chain is taking place in 20 mins. On August 1st, the VeChainThor X Node monitoring will resume.https://t.co/kBLFTugUHP pic.twitter.com/W0cs2H8ZA8

— VeChain Foundation (@vechainofficial) June 30, 2018
VeChain also released a great video with all details about the token swap.
Because there is a lot of information we have created an easy to follow method to swap your VEN to VET.
General token swap FAQ
What is a token swap? What is the difference between VEN and VET? VEN is the Ethereum based token that could be bought during the ICO and on exchanges after the ICO. VET is the native coin of the VeChainThor platform. During the token swap, you can swap your VEN to VET tokens.
How much VET is 1 VEN worth? 1 VEN is worth 100 VET.
How long do I have to perform the token swap? The token swap will remain available untill further notice
Something went wrong, can you help me? No, we don't offer support, but feel free to ask your question in the comments below or ask for support in one of the official VeChain Telegram channels.
How to do the VEN to VET token swap guide
By following this guide, you will download the VeChainThor mobile wallet, setup a VET wallet and than perform a token swap using the app.
Accept the Service Agreement and Privacy Policy and set your 6 digit login password in the next step.
Click on "Create Wallet" and follow the instructions provided by the App
After the creation of your wallet, you will be given a unique mnemonic phrase. Write this down and store it in a safe location. The mnemonic phrase is your only way to restore your wallet if needed in the future, so make sure you keep it safe.

To prevent anyone from getting access to your mnemonic phrase, it is best to write it down on multiple pieces of paper that you store in various locations (your house + your parents for example).
Do not store your mnemonic key in your mail, cloud services or mobile phone for security reasons.
After installation of the wallet, the mnemonic phrase will be destroyed and there is no way to recover this, so KEEP IT SAFE AND SECURE.

DO NOT SEND YOUR ERC-20 VEN TO THIS VET WALLET
Now we have created a wallet we can start with the actual token swap process. Click on Me > VET Token Swap service. Accept the service agreement and click on Start.
Select the wallet you just created, this is where your VET after the token swap will go to. DO NOT SEND YOUR ERC-20 VEN TO YOUR VET ADDRESS.
Input the Ethereum address from which you will send your VEN and input the amount of VEN you want to swap.
You are now given an intermediary address (the receiver address).
Send a test transaction to this intermediary address:

Send 0.01 VEN to this intermediary address.
Wait a few days until you receive 1 VET back. Token swaps are processed twice a week by the team, so don't worry it can take a few days!
Only send your VEN to this intermediary address, never to your VET address!
Once you have received your 1 VET back, you know you did the swap correctly and you can now send the remainder of your VEN!

With the test transaction successfully done, you can now send the remainder of your VEN holdings to your intermediary address.

Wait a few days again and you should have received your VET in  your wallet

Congrats, the token swap is done. If you need help please contact support@vechain.com and they will be able to assist you further!