OceanEx is a cryptocurrency asset management platform created for the VeChain ecosystem. It will play a key role in bridging the gap that exists between investors, enterprises and the crypto world.
OceanEx works closely with the VeChain Foundation and other projects in the VeChain Ecosystem to empower these projects by providing them with the financial services and products they need.
One of the key features that will set OceanEx apart from other cryptocurrency exchanges is its focus on security and compliance.
As Sunny said during the OceanEx meetup in Amsterdam on the 12th of March, 2019: "When talking to enterprises, the most important thing for these enterprises to look for in exchange is that they want one with a clean slate."
By working closely with regulators and making sure they meet the most strict regulations, usage by enterprises and features like fiat pairings will be made possible.
The OceanEx exchange
The Alpha version of the OceanEx exchange was officially launched on November 7th, 2018, with the Beta version (OceanEx 1.0) released later that month.
During the first quarter of 2019, OceanEx has slowly released new features to its platform and has listed all projects in the VeChain ecosystem.
Available up for trading on OceanEx currently are:
BTC
ETH
VET
VTHO
And the VeChain ecosystem projects: Safe Haven, Plair, DecentBet and TicTalk
Because of its strong support for the VeChain ecosystem, volume has slowly been increasing for the exchange, already beating Binance for some of the most important VeChain token pairings:
Ranking on 24 h Volume trading of $VET has been taking over by #OceanEx#Binance is a good 2nd and 3rd. 👌$OCE $BNB pic.twitter.com/7hUgikx08g

— RoNo ($VET man) (@roy_noom) March 28, 2019
Upcoming OceanEx Features
With the launch of OceanEx 2.0 (codename: Atlantis) just around the corner, OceanEx has already released more information on what we can expect in the future.
Fiat Pairings
OceanEx is working closely with banks and legal entities to offer fiat pairings in the future, further bridging the gap between the normal and crypto economy.
Margin trading
OceanEx has announced that they will offer margin trading later this year in their recent AmA.
Margin trading allows you to trade with borrowed money. This way you can buy more coins than you normally could afford, allowing for a bigger potential in returns.
However, margin trading also comes with increased risks. Margin traders have to pay interest over their borrowed funds. Another risk is that of a trade gone wrong. Just imagine what can happen when you buy coins with borrowed money and the market crashes.
It will be interesting to see how OceanEx will incorporate Margin Trading while meeting all strict regulations and keeping its users safe.
OCE Launchpad
Similar to the Binance Launchpad, where projects can offer their initial token offering, OceanEx will launch a service that will allow projects to do so.
Hopefully, this platform will be ready before the VeChainThor ecosystem projects Cecil Alliance and Cahrenheit announce their new token issuance, so they can make use of this platform.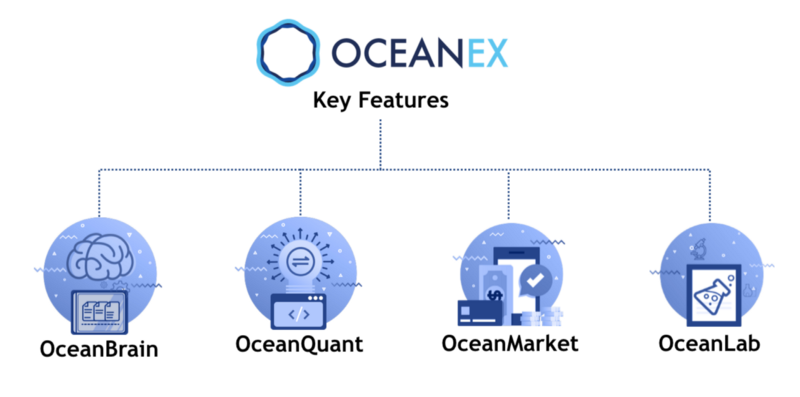 OceanBrain
OceanBrain is an artificial intelligence system incorporated into all aspects of the OceanEx platform.
OceanBrain sest itself apart from most state-of-the-art AI systems by operating in a "hybrid mode", where it will not only use large-scale historical data but will also combine this with human knowledge.
OceanBrain will be used to monitor trading and user asset behaviors to spot irregularities and act accordingly to provide maximum security.
OceanQuant
OceanQuant is a quantitative platform built for traders. Using OceanQuant, users can develop their own trading algorithms and backtest these algorithms using OceanEx its historical data.
OceanQuant will be integrated with the OceanEx trading engine, providing optimal performance for dedicated high-frequency trading.
OceanMarket
OceanMarket is a market place where users can subscribe to the algorithms developed using OceanQuant.
The performance of the algorithms you can subscribe to will be made available, after which users can subscribe to these trading algorithms for a certain fee. This fee will be returned to the developer of the algorithm.
CryptoBento
CryptoBento is a service that will allow you to buy bundles that represent cryptocurrencies in a certain ratio.
This is a great way for the novice user to buy some crypto, without having to dive into every project. Just buy a certain bundle that meets your requirements.

OCE Club
To show appreciation to OCE token holders, OceanEx has created the OCE Club. By joining the OCE Club you will get exclusive benefits and discounts not available to users outside of the club.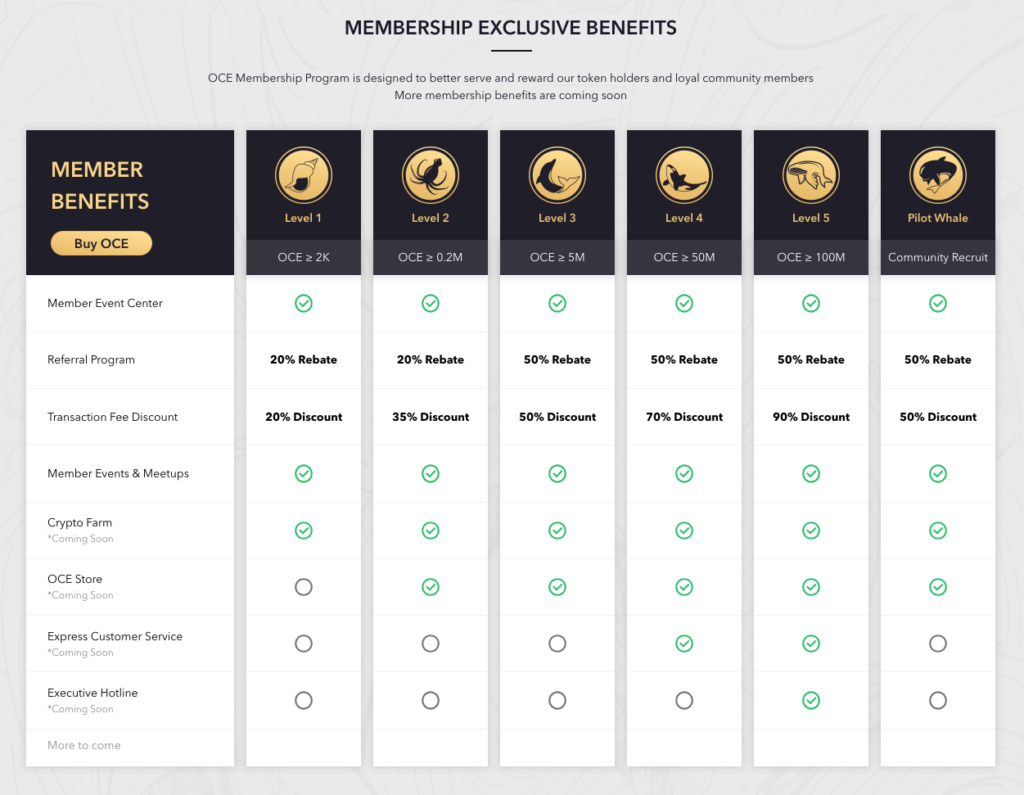 To join the OCE Club, which launches on April 2nd, you have to lock a certain amount of OCE. Prices range from 2000 OCE for Level 1 membership, to 100M OCE for Level 5 membership.
One of the biggest benefits is a discount on your trading fees, which can really make a difference for active traders on the exchange.
Many more benefits, like discounts for OceanEx's to be released products and services, will be announced at a later stage.
The OceanEx team
The core OceanEx team has an office in the same building as the VeChain core team, making sure that they can work closely together on various projects. OceanEx currently has over 50 employees globally.
OceanEx and VeChain also recently announced a new collaborative office in Bejing:
and new collaborative office with OCE in Beijing

— Sunny LU, VeChain (@sunshinelu24) March 29, 2019
Leading the core team is Xiaoning Nan, who has been in the crypto world since 2013 and has played an important role in the rise of blockchain technology in China, partly thanks to his Bitcoin mining operations. After his successful mining startup, Nan founded Bitocean and has been one of the lead advisors for the VeChain Foundation.
Sunny (CEO VeChain) about Nan: I didn't ask Nan to be our lead advisor because he was connected, I asked him because, above all else, I knew he cared. He didn't care about the money, he didn't care for the fame, and in a lot of ways, he doesn't even care for this ICO. All I have known Nanning to be is a man who cares about the future of blockchain technology, who cares about the mass adoption of this technology, and who cares about being with the group of people who has a good chance of making the future happen.
Daniel Kelman is one of the most famous lawyers in the blockchain industry, making name for himself while working on the MtGox case. As the Chief Legal Officer, Daniel will make sure that OceanEx will meet all legal requirements while pushing the boundaries of OceanEx's adoption thanks to his close relations with governments and other legal entities.
OceanEx's co-founder/CSO, Daniel Kelman, sharing his co-working experience with legal regulators from multiple countries' on cryptocurrency policies and the regulation of digital assets exchanges at #SlushShanghai2018. $OCE $VET pic.twitter.com/ZRGyvUpvMs

— OceanEx Official (@OceanexOfficial) September 7, 2018
Last, but certainly not the least, is the COO Wei Wang. Wei Wang started his career at Deloitte, where he provided corporate finance advisory services to various global exchanges.
Pilot Whales
OceanEx selects the most helpful members of its community to join the Pilot Whale group. Although not part of the team, a special shout out goes to all the Pilot Whales!
2 weeks ago we had some fun packing 6 people in a small family car😂. Thanks for the amazing experience @NanXiaoning @danielkelman @sunshinelu24 @MikeZhuang @OceanexOfficial @vechainofficial #amsterdam #OceanEx #VeChain #fun #Motivation #inspiring pic.twitter.com/B1qoa0F40B

— Richie (@richie_fallclis) March 26, 2019
The Pilot Whales volunteer their time helping out the community and making OceanEx a better place for all. Thanks!
OceanEx token (OCE) details
OceanEx had its successful token sale on October 9th, 2018. Raising a total of $11.3m with 30% of the total 10 billion tokens up for sale.
During the token sale, OCE was ten times oversold, leaving out a lot of users that wanted to get their hands on some OCE.
During its token sale, 1 OCE cost around $0.0014 and 1 VET equaled 7.31 OCE. You can find more details on the OceanEx ICO in the table below:
Round
Start date
End date
Min/max entry
Price
Notes
Private
June 15, 2018
sold out
tbd
1 VET = 8 OCE
Lockup required. 50% of tokens released after 6 months. Private sale has already sold out
X round
Oct 6th, 13:00 (UTC+8)
Oct 8th 13:00 (UTC+8)
Mjolnir X= 50k or 200k
Thunder X= 50k or 200k
Strength X= 50k or 100k
VeThor X= 50k or 100k
1 VET = 7.3 OCE
Whitelisted xnode holders can buy one of the two proposed quota's for their xnode.
Flash Day
October 8th 23:30 (UTC+8)
October 9th 23:30 (UTC+8)
Premium Box: 800.000 VET = 5.840.000 OCE
Platinum Box: 100.000 VET = 730.000 OCE
Gold Box: 80.000 VET = 584.000 OCE
Silver Box: 30.000 VET = 219.000 OCE
1 VET = 7.3 OCE
The flash day is expected to sell out fast. Each box has a limited amount available.
Please note: All prices are post 1:100 token split
During the ICO 3B of the 10B tokens will be sold. Read the official ICO details here.
OceanEx token (OCE) listing
OCE will be listed on the OceanEx exchange at 22:00 (UTC+8) on Mar 31st, 2019. OCE will be paired against VET.
📢 OCE will be initially listed soon, please check out detail plan below: #OCE #OCEListinghttps://t.co/eZrr8ll3Fv

— OceanEx Official (@OceanexOfficial) March 28, 2019
What do you think of the OceanEx exchange and what do you expect of OCE? Let us know in the comments below!