Safe Haven provides individuals as well as enterprises with solutions to better manage their digital assets.
According to an article published by Fortune.com, 17% to 23% of all existing bitcoins have been lost so far, by mismanagement of the coin holders.
Safe Haven is here to change this, by providing users with solutions to make sure they can keep their digital assets safe, for example by managing what happens to your coins when you pass away or providing solutions to have multiple persons in a company manage the crypto funds.
About Safe Haven
The main goal of Safe Haven is to create Crypto Asset Management solutions. Next to products for end-users, they will also provide enterprises, crypto projects, exchanges as well as FinTech companies with the tools to better manage and store their crypto assets.
The solutions provided by Safe Haven can be divided into four different categories:
1. Community dApps
The Safe Haven Foundation will support the community by providing the community with the tools and protocols to better manage their funds.
The first product made for the community has already been released and is called Thorblock. Thorblock allows users to pool funds to take part in an ICO. The Plair project made use of Thorblock to run the public round of its token sale. You can read a complete write-up about Thorblock here.
2. Asset Management dApps
At the core of Safe Haven's product offerings are its asset management solutions. Safe Haven is planning to offer the following solutions, with more to follow:
Multisig wallets
Long-term cold storage
Making wallets inheritable
The solutions provided can benefit exchanges as well as financial and insurance companies. See the following video for an introduction of Safe Haven's Digital Inheritance solution:
The possibilities are endless, please be sure to follow us to stay up to date with new product releases of Safe Haven.
3. Financial dApps
Safe Haven has developed a Shared Distribution (SD) Protocol. This technology allows users to encrypt and distribute shares of digital assets (for example a wallet) between stakeholders like for example company founders or family members.
4. Products Engineering
Safe Haven will also develop custom products, such as the upcoming hardware ledger device which is being co-developed with Nitrokey. Read more about this here.
The team is set to develop products that are efficient and easy to use for everyone.
The Safe Haven Team
The Safe Haven team is based in Belgium and was founded by Logino Dujardin, Jurgen Schouppe and Andy Demeulemeester. All three founders have equal ownership in the Safe Haven Tech PTE LTD which is a private share company registered in Singapore.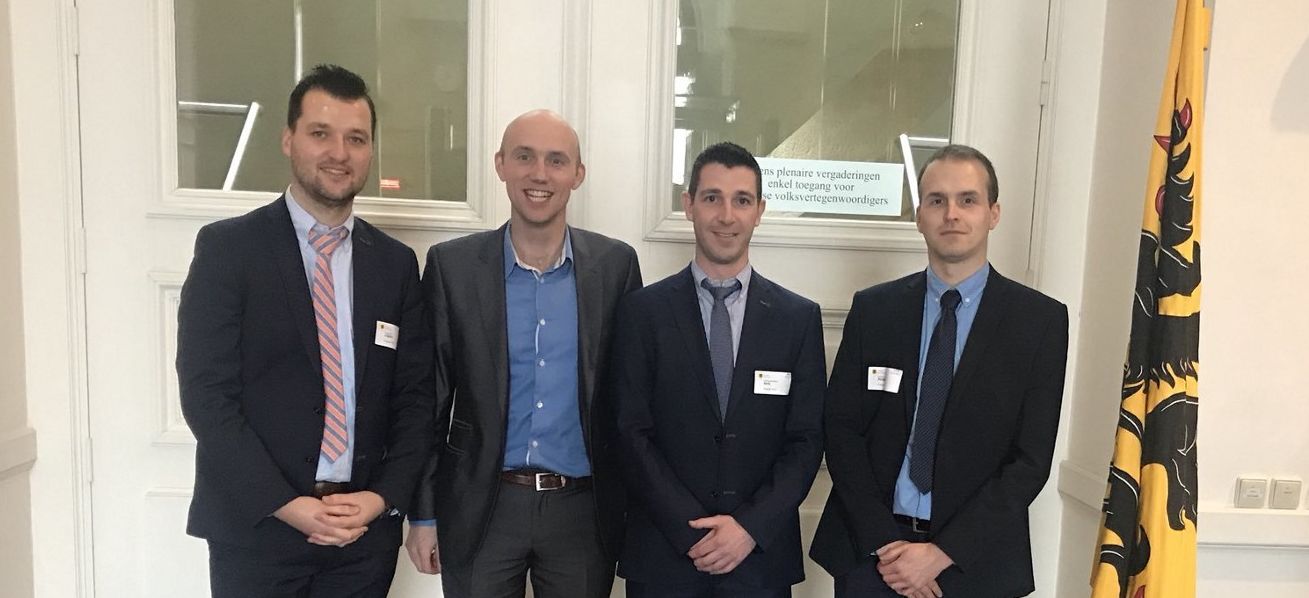 Jurgen Schouppe on why he started Safe Haven:
"As I thought of bringing this technology into my families everyday life, I knew then and there that my legacy would not pass with it. If I make a paper wallet and the house burns, everything is gone. If I trust an exchange and I am compromised, I lose everything. If I misplace my private key, all is lost with it. There is no way to assure my assets safety in the brink of the world's least forgiving situations. I have never felt more compelled to do anything in my life than to develop this product, because of that legacy, my wife and children? That is everything. So I quit my job in Parliament and began moving forward with Safe Haven."
Showcasing our solutions to one of the big four in Cyprus. Thank you @KPMGCyprus for giving us the opportunity to have a fruitful discussion! #VET #SHA pic.twitter.com/FvUDbNjC4s

— Safe Haven (SHA) (@SafeHavenio) December 21, 2018
The Safe Haven Foundation
The Foundation can best be described as a Crypto Asset Management Technology Infrastructure Builder.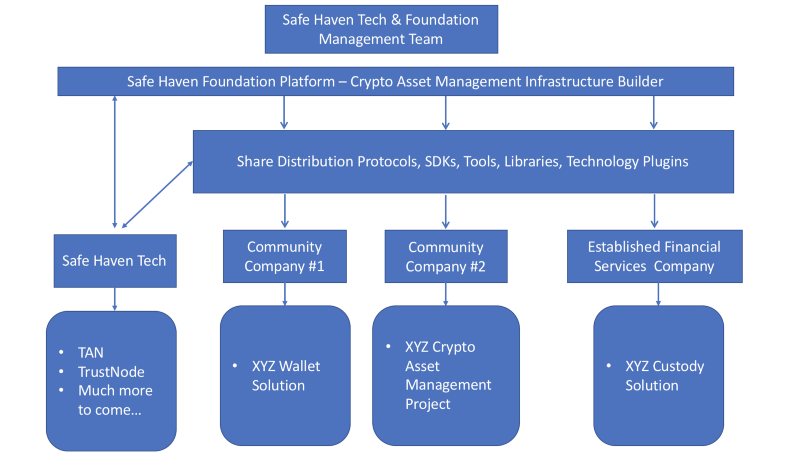 Safe Haven Tech will build the protocols, tools, and libraries needed to develop Asset Management Solutions. The Foundation will hold the intellectual property rights to the tools and libraries and can provide third parties with the tools needed to create their own FinTech solutions.
We are proud to announce the full support by @InvestCyprus and the National Chief Scientist who is responsible for the national strategy for researsch and innovation in Cyprus. #VET #SHA pic.twitter.com/pz542CmrYw

— Safe Haven Foundation (@SafeHavenio) December 21, 2018
The Safe Haven token (SHA)
The Safe Haven economy is powered by the SHA token, which is a token on the VeChainThor blockchain.
The Safe Haven tokens are minted on the VeChainThor blockchain and ready to leave our wallet! Welcome our SHA token in your VET wallet by the end of this week! #VET #SHA pic.twitter.com/tdyc24K5Tj

— Safe Haven (SHA) (@SafeHavenio) October 21, 2018
The SHA token will be the currency needed to pay for the solutions provided by Safe Haven. Another use-case is that users have to lock down a certain amount of SHA for a certain duration to make use of some of Safe Haven's products.
SHA Master nodes have also been announced, but no details have been released yet.
Safe Haven ICO details
Safe Haven started its Token Generation Event on October 8th, 2018 and consisted of 6 various rounds in which users could buy SHA.
We raised a total of 157,000,000 VET in our TGE. The TGE is oversubscribed with 4,000,000 VET. In reaction to the oversubscription, the founders have decided to honor those 4M pledged by allocating SHA from their personal founders pool. #VET #SHA

— Safe Haven (SHA) (@SafeHavenio) October 12, 2018
The TGE rounds were oversubscribed and the last round sold out in minutes, forcing the Foundation to cancel the public sale.
You can find all the ICO details below:
Round
Start
End
Allocation
Price
Notes
Private
June 25, 2018
completed
min: 15.000 VET
1 VET = 11.36 SHA
Lockup of bonus required for 6 months.
Authority and Mjolnir Round
October 8th, 22:00 (UTC+8)
October 15th, 23:30 (UTC+8)
min: 30.000 VET
max: 10.000.000 VET
1 VET = 11.36 SHA
Lockup of 6 months required For Authority/Mjolnir nodes bonus.
X-Node Round
October 8th, 22:00 (UTC+8)
October 15th, 23:30 (UTC+8)
min: 10.000 VET
max: 10.000.000 VET
1 VET = 10.00 SHA
Economic Node Round
October 16th, 22:00 (UTC+8)
October 23th, 23:30 (UTC+8)
min: 10.000 VET
max: 3.000.000 VET
1 VET = 10.00 SHA
Other VET holders
October 16th, 22:00 (UTC+8)
October 23th, 23:30 (UTC+8)
min: 10.000 VET
max: 3.000.000 VET
1 VET = 9.09 SHA
You need to have at least 10.000 VET in your wallet
Public round
sold out
sold out
min: 10.000 VET
max: 3.000.000 VET
1 VET = 9.09 SHA
The public round has been canceled since all available SHA was sold in the previous rounds
Please note: All prices are post 1:100 token split
During the ICO 39,5% of the tokens were be sold. Read the official ICO details here and here.
Stay up to date with Safe Haven