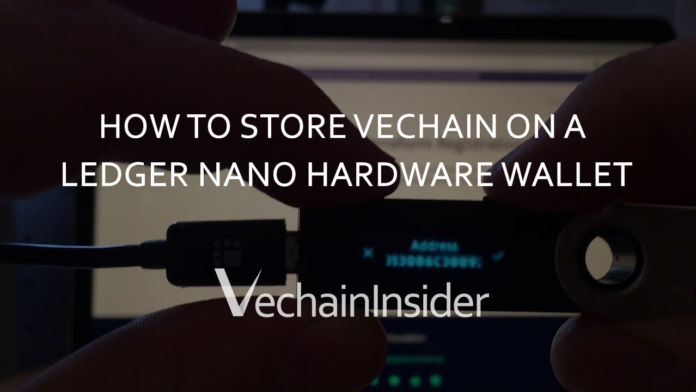 In this guide you will learn how to store VeChain, or any of the VeChain tokens, on your Ledger hardware wallet.
For this guide you will need:
Step 1: Install the VeChain ledger live application
Ledger used to work using Chrome browser apps, but has since moved to a dedicated program called Ledger Live, available for Mac, Windows and Linux. If you haven't installed it yet, please go to https://www.ledger.com/pages/ledger-live and follow the instructions to install Ledger Live.
Start Ledger Live and make sure it is up-to-date, if not update it.
Connect your Ledger device to your computer using USB and go to the Manager.
Give access to the Manager on your ledger device.
Now search for the VeChain application in the ledger store and install it.
If successful you will get the following message.
Your ledger hardware wallet has now been set up successfully.
To manage your VeChain wallet, we won't be using the Ledger Live application, but we will make use of the VeForge Vault, a web-based way to manage your VeChain wallets stored on your Ledger Nano device.
Step 2: The VeForge Vault
Go to https://vault.veforge.com/ and you should see the following screen.
Make sure your Ledger is connected to your computer.
Unlock your Ledger and open the VeChain App on your ledger.
You should now get access to five different VeChain wallets stored on your Ledger Nano.
Congrats you have now set up your Nano Ledger based VeChain wallet.
Bonus: Video instructions
If you prefer to watch video instructions of this complete process, be sure to check out this great video by Boxmining:
Optional: Observe your ledger wallet on the VeChainThor mobile wallet
Vechain's mobile wallet app has an observe wallet function. The observe wallet function is a secure way to monitor your holdings using the mobile app, while your private keys and transactions rights are safely stored on your Nano Ledger S.
Start the Authorization
The Observe wallet function allows you to view your holdings/transactions and manage your node stored on your Nano Ledger S using your mobile phone.
Go to settings > Observe wallet Authorization.

Select the wallet you want to Observe (you will have 5 different wallets in your vault) and you will be given a QR code, which is the wallet address.
Add the Observe wallet to the mobile phone
Download and open the VeChainThor mobile wallet and navigate to 'Import a wallet to Observe', scan the QR code from the VeForge Vault to enter your wallet address.
The mobile wallet will now give you a 6 digits authentication code. Enter this code in the following screen: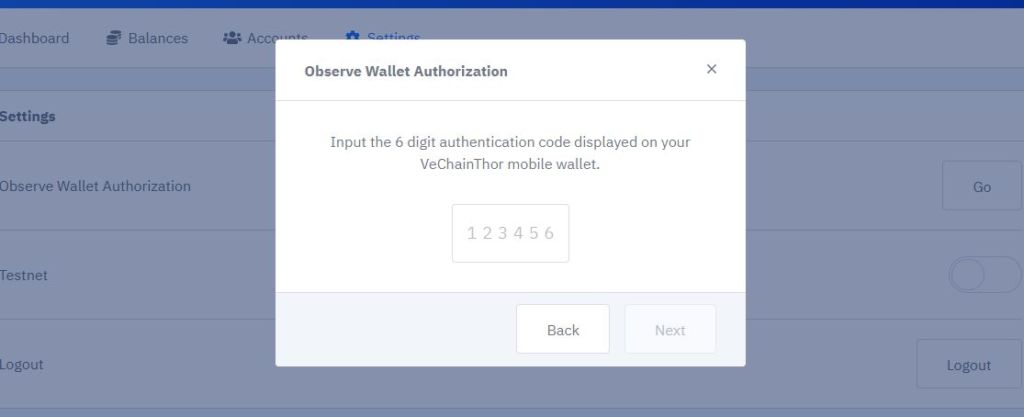 You will now be given an authorization signature, which you can use in the next step.
Go back to the mobile VeChainThor mobile wallet and fill in the authorization signature of the previous step:

Now click on Verify signature. If you did all steps correctly you will get an "Observe wallet successful" message. Congrats, you have now set up your Observed wallet!
Manage your node using the observe function
Now you have working observe wallet in the mobile app we can use the mobile app to:
Perform a VEN to VET token swap
Setup a Node and claim the VTHO node rewards
Applying for a node is really simple, just go to the Rewards tab and click on Upgrade. If you meet the minimum required amount of 1,000,000 VET you will become a Strength Node after the initial maturity period of 10 days.
Click here to learn more about the various VeChain nodes and requirements.