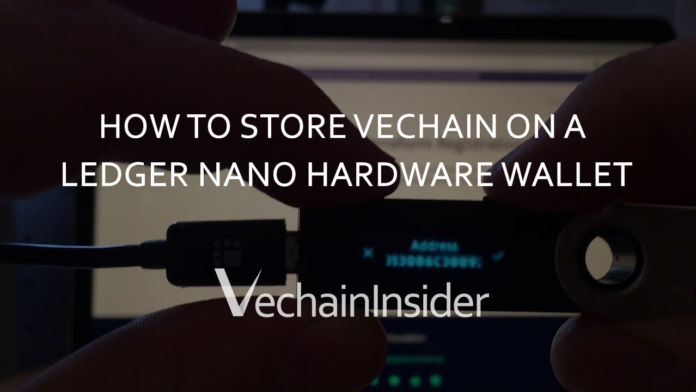 In this guide, you will learn how to store VeChain, or any of the VeChain tokens, on your Ledger hardware wallet.
For this guide you will need:
Step 1: Install the VeChain Wallet on your Ledger
Ledger used to work using Chrome browser apps, but has now moved to a dedicated program called Ledger Live, available for Mac, Windows and Linux. If you haven't installed it yet, please go to https://www.ledger.com/pages/ledger-live and follow the instructions to install Ledger Live.
Start Ledger Live and make sure it is up-to-date, if not update it.
Connect your Ledger device to your computer using USB and go to the Manager.
Give access to the Manager on your ledger device.
Now search for the VeChain application in the ledger store and install it.
If successful you will get the following message.
On your Ledger device, open up the VeChain application. Go to settings in the VeChain application and make sure to set contract data to yes and multi-clause to yes.
Your ledger hardware wallet has now been set up successfully.
To manage your VeChain wallet, we won't be using the Ledger Live application, but we will make use of Sync to manage your VeChain wallets stored on your Ledger Nano device.
Step 2: Import wallet from Ledger in Sync
Sync is the official desktop wallet and dApp browser for the VeChainThor ecosystem. We will use it to interact with our wallet stored on our Ledger
Go to https://env.vechain.org/#sync and download and install the latest version of Sync for your operating system. Please note that you need at least version 1.20 to be able to interact with your ledger, if you have an older version, update!
Open up Sync and click on the wallets icon on the top right. Click on the ledger logo and the following screen should pop up:

After following the instructions on screen you should get access to the 5 VeChainThor addresses managed by your Ledger device:
Now you can click on one of the wallets to see its holdings, recent transactions or send VET as can be seen in the picture below:
It is currently not yet possible to use Sync to authorize the VeChainThor mobile wallet to observe wallets stored on your Ledger device
Step 3: Using the My Tokens dApp to send VIP180 tokens
Using Sync go to https://tokens.vecha.in
Click on Import and a pop-up appears in which you can select one of your Sync wallets.
On the top-left in this pop-up select your Ledger device instead of local:
And Authorise that the dApp can use your wallet on your ledger:
You will now have access to all your tokens and will be able to Transfer them!
Bonus: Video instructions
If you prefer to watch a video of the entire process, please watch these helpful video's: