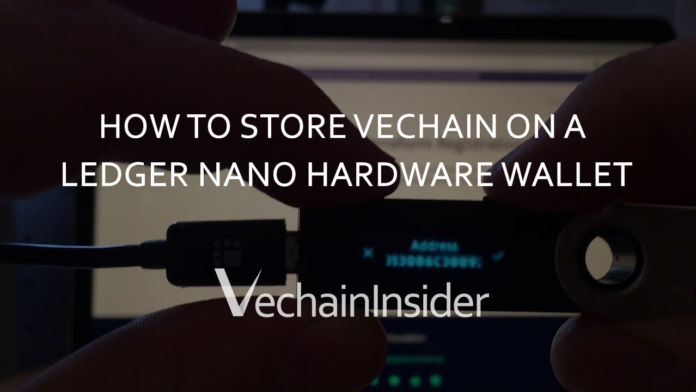 In this guide, you will learn how to store VeChain, or any of the VeChain tokens, on your Ledger hardware wallet.
For this guide you will need:
Step 1: Install the VeChain Wallet on your Ledger
Ledger Live, available for Mac, Windows and Linux, needs to be installed on your computer. If you haven't installed it yet, please go to https://www.ledger.com/pages/ledger-live and follow the instructions to install Ledger Live.
Start Ledger Live and make sure it is up-to-date, if not update it.
Connect your Ledger device to your computer using USB and go to Manager.
Give access to the Manager on your ledger device.
Now search for the VeChain application in the ledger store and install it onto your ledger.
If successful you will get the following message.
On your Ledger device, open up the VeChain application. Go to settings in the VeChain application on your ledger and make sure to set contract data to yes and multi-clause to yes.
Your ledger hardware wallet has now been set up successfully.
To manage your VeChain wallet, we won't be using the Ledger Live application, but we will make use of Sync to manage your VeChain wallets stored on your Ledger Nano device.
Step 2: Import wallet from Ledger in Sync
Sync is the official desktop wallet and dApp browser for the VeChainThor ecosystem. We will use it to interact with our wallet stored on our Ledger
Go to https://env.vechain.org/#sync and download and install the latest version of Sync for your operating system. Please note that you need at least version 1.20 to be able to interact with your ledger, if you have an older version, update!
Open up Sync and click on the wallets icon on the top right. Click on the ledger logo and the following screen should pop up:

After following the instructions on screen you should get access to the 5 VeChainThor addresses managed by your Ledger device:
Now you can click on one of the wallets to see its holdings, recent transactions or send VET as can be seen in the picture below:
It is currently not yet possible to use Sync to authorize the VeChainThor mobile wallet to observe wallets stored on your Ledger device
Step 3: Managing your funds
The Manager by VeChainStats is a browser-based application, that allows you to manage your VeChain tokens and Nodes.
3.1 Login to your Wallet
You can access the manager by visiting https://manager.vechainstats.com/ from any of the official VeChain Wallets:
Sync – The official desktop wallet, which also supports Ledger Hardware wallets.
Click on Login / start dApp and click on proceed in the popup.
Here you select the address you want to manage, addresses managed by the official wallets, as well as addresses managed by your Ledger Nano wallet, are currently supported.
Once logged in on the dashboard you can see your assets:

3.1.1 Available VET Balance
In the first area details of your VET holdings are displayed, you can also easily send or receive VET or VIP180 token by using the buttons in this area.
3.1.2 Available Collectible Tokens
Here you can see an overview of the VeChainThor Node NTF Token (VIP181) that is currently in your address. If you have a VeChain Node it details will be displayed here.
Other collectible tokens will be supported in the near future.
Click here to learn more about VeChain Nodes
3.1.3 Total VET and VIP180 Token value
Here you can see the total value in both EUR as well as USD of VET and all other VIP180 tokens currently in your wallet. It also shows you any recent transfers of VET as well as VTHO.
3.1.4 Available Tokens
And finally, in the last section on the Dashboard you can find an overview of VIP180 Tokens that are currently in your wallet.
3.1.5 VTHO Generation
If you scroll further down you can see your current VTHO generation and VTHO bonus reward calculation as well as your recent VTHO claims (not included on the screenshot).
3.2 Sending VET and VeChainThor VIP180 tokens
Sending VET or any of the VIP180 Tokens like Plair, Safe Haven, OceanEx or 8Hours is very straightforward using the Manager.
First login to the manager with the address you want to send your tokens from as described in the section above.
Select Token transfers from the menu on the left.
Now a popup shows up that allows you to set all transaction details. Select the receiver, Token you want to transfer as well as the amount you want to send.
Click on Send Funds.
The Manager will now ask for you to sign the transaction, double-check to make sure you entered everything correctly and approve the transaction.
The Manager will now broadcast your transaction to the Blockchain, once it has been added in a block you will see its confirmation.
Bonus: Video instructions
If you prefer to watch a video of the entire process, please watch these helpful video's: