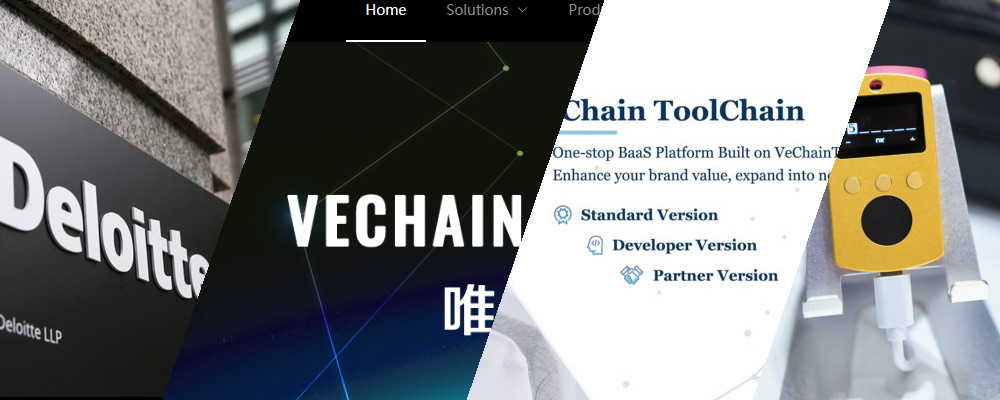 In this Monthly report, we will give a summary of the most important updates that happened in the VeChain ecosystem during May 2019.
VeChain
May 2nd, 2019 – CCN features an article on Deloitte migrating some of its clients from Ethereum to the VeChain blockchain.
May 6th, 2019 – New websites for the VeChain Foundation and VeChain enterprise are live. Using the website you can now sign up for ToolChain! You can check out the websites at vechain.com (enterprise) and vechain.org (Foundation).
May 6th, 2019 – Zeux, a payment service provider has integrated VeChain into its product. Zeux users can now use VET at merchants that accept Apple Pay and Samsung pay.
Now you can use #Zeux to pay with #VET with our exciting collaboration with #VeChain. Another leap towards #massadoptionhttps://t.co/tiNdKCdlra@vechainofficial @sunshinelu24 @kfeng027 @MikeZhuang @frankjzhou @Sarah_Nabaa @VechainThorCom @Vechain1 #vechain #vet #zeux

— Zeux (@ZeuxApp) May 6, 2019
May 10th, 2019 – VeChain releases an article on its upcoming hardware wallet VeKey in the article you can read what kind of hardware and software methods are used to secure the VeKey.
May 13th, 2019 – In a new medium article VeChain announces that the Renji Hospital will join the Digital Carbon Ecosystem. Next to this Norway in a Box has joined Bright Code by DNV GL, running on VechainThor.
Announcing the Official Addition of the Historic Renji Hospital into the Digital Carbon Ecosystem and Norway in a Box Set to Go Live on Bright Code.https://t.co/AmjGXXpvww

— VeChain Foundation (@vechainofficial) May 13, 2019
May 15th, 2019 – Viva Tech is one of the worlds largest annual technology conferences. Together with DNV GL, VeChain attended this conference to showcase ToolChain and My Story.
May 18th, 2019 – The first product, Cupids Farm Milk, has gone live on the Bright code platform. The milk is now for sale in various retail stores across China.
May 28th, 2019 – VeChain's CFO Mike Zhuang and Luca Crisciotti, CEO of DNV GL Business Assurance, together with George Kang, CEO of DNV GL Business Assurance Greater China and part of VeChain's steering committee attended the China International Big Data Industry Expo. During the Expo VeChain and DNV GL had the opportunity to discuss their blockchain-based digital carbon Ecosystem with peers in the industry.
VeChain attended the China International Big Data Industry Expo 2019.https://t.co/rIDL1Ue3Ci

— VeChain Foundation (@vechainofficial) May 28, 2019
Ecosystem Projects
May 1st, 2019 – OceanEx announces that it is joining the CoinMarketCap DATA alliance together with 12 other exchanges. DATA seeks to promote greater transparency, accountability, and disclosure from projects in the crypto space
May 7th, 2019 – OceanEx announces a partnership with Koi Compliance. Part of Binance, Koi Compliance is a leader in the KYC/AML solutions market for virtual currencies. Koi Compliance will help OCE implement an AML (anti-money laundering) transaction monitoring system.
May 20th, 2019 – Safe Haven releases more details on the economics of the SHA token and the business models behind the SHA products. ThorPay requires a lockup of 50.000 SHA to be used. Next to this a Monthly subscription fee has to be paid depending on usage. The Safe Haven Inheritance Platform is available starting from $19,99 a year, while also requiring a minimum amount of SHA.
May 24th, 2019 – Safe Haven (SHA) has applied to be listed on Binance.
Safe Haven (SHA) has submitted an application to be considered for listing on @binance. The application is currently in progress and we wait patiently for more news. Meanwhile keep #BUIDLING #SHA #VET #CreatingValuableTXs pic.twitter.com/TlJKM798Lt

— Safe Haven (SHA) (@SafeHavenio) May 24, 2019
May 26th, 2019 – The first Dota2 tournament was successfully held during the Alpha of the Plair platform.
What a great game! Precious (and fun) moments shared by our awesome Alpha testers in Plair's first tournament! We are now looking into your suggestions, continue to make improvement and rolling up more matches! #dota2 #makinghistory #plair pic.twitter.com/g2oRf9NpiQ

— Plair (@plair_life) May 27, 2019
May 31st, 2019 – OceanEx publishes its monthly update with everything that happened at the OCE exchange.
Team members
May 3th, 2019 – Sunny Lu shares a LinkedIn post on DNV GL announcing a successful migration to the VeChainThor blockchain.
It's true. @DNVGL is true global Blockchain leader indeed. We, @vechainofficial is enabler who wants to enable more blockchain leader like DNVGL. pic.twitter.com/jz0eLZ6sAT

— Sunny LU, VeChain (@sunshinelu24) May 3, 2019
May 6th, 2019 – Kevin Feng (COO) shares an article on VeChainWorld.io that showcases the five types of IoT tags that VeChain supplies for various IoT use cases.
May 9th, 2019 – Jason Rockwood (Country Manager USA) once again showing that onboarding enterprises can take a while
Today I met with a major financial services company. They were very excited to build on VeChain, and would be ready to start a POC in six months. They asked if that was okay. I replied that our patience for enterprise timelines is our differentiator. They agreed!

2/2 $VET

— Jason Rockwood (@jasonrockwood) May 9, 2019
May 15th, 2019 – Sunny Lu shares a funny picture of both Mike and Jerome injured after playing sports (the team often enjoys some soccer together).
Nothing can stop these beasts but guys, please warm up enough next time before any sports activities. pic.twitter.com/jEjVn1ghV4

— Sunny LU, VeChain (@sunshinelu24) May 15, 2019
May 16th, 2019 – Kevin, Sunny and Jerome representing VeChain during this year's VivaTech event in Paris, France.
Great experience @VivaTech. We are lucky to have two French speakers on the team. @JeromeGrilleres is the super star! pic.twitter.com/dLusZCPtxR

— Kevin Feng (@kfeng027) May 16, 2019
May 24th, 2019 – Both the Senior researcher and Chief Scientist of VeChain have written a paper on the Blockchain scalability problem.
May 29th, 2019 – VeChain has been working on a series of tutorials on ToolChain. ToolChain is a turnkey service provided by VeChain that allows anyone to integrate blockchain and IoT technology into its business processes.
Hi,大家好 from Shanghai! some #behindthescenes pics with @jasonrockwood & Project Manager ,Perkins. We're filming a series of ToolChain Tutorials & Jason is rockin' the set 👏🏻👏🏻 #GoVeChain pic.twitter.com/z2EyEgtTkY

— Sarah (@Sarah_Nabaa) May 29, 2019
Community
May 8th, 2019 – Sven Edgren, Head of Digital Transformation at DNV GL explained the ecosystem DNV GL is working on in the food industry. At the core of the ecosystem will be the blockchain technology provided by VeChain.
Sven Edgren – Head of Digital Transformation at @DNVGL on stage at @SEEDSandCHIPS presenting ecosystem business models powered by the #VeChainThor #blockchain@vechainofficial #DNVGL $VET $VTHO #VeChain #SeedsAndChips #MyStory™ #CarbonEcosystem #Sustainability #DigitalAssurance pic.twitter.com/xutAdlSs8X

— bsc44 (@bsc44_x) May 8, 2019
May 16th, 2019 – Totient Labs has written an article on VIP-191. VIP-191 is a VeChain Improvement Protocol currently in the testing phase. Once implemented it will allow for an improved fee delegation system on the VeChainThor blockchain.
May 17th, 2019 – Another great article was released by Totient Labs, explaining why and how dApp developers should switch from Ethereum to the VechainThor blockchain.
Make your dApp usable by anyone, regardless of their knowledge of blockchain technology, by porting to VeChain.https://t.co/RTgZ32LF1v

— Totient Labs (@TotientLabs) May 17, 2019
May 18th, 2019 – A great interview by Ben Yorke where he discusses ToolChain with Sarah from VeChain.
For those interested in ToolChain, come have a listen to our new podcast episode! Our guests @Sarah_Nabaa and Perkins Chen explain in detail VeChain's new turnkey solution that anyone can use to put products on the blockchain! #blockchain $vet https://t.co/hjuNrumTtO

— Ben Yorke | vechain101.com (@BenYorke) May 18, 2019
May 22th, 2019 – During SEEDSandCHIPS 2019, Sunny Lu had the opportunity to share ideas on the blockchain-based ecosystem with the Prime Minister of Italy.
At @SEEDSandCHIPS 2019, @sunshinelu24 had the opportunity to meet with the Italian Prime Minister @GiuseppeConteIT and share his vision about blockchain-based ecosystems, with the ultimate goal of achieving #SDGs and positively transforming the future of our planet.#VET pic.twitter.com/x6esOdPpG2

— VeChain Italia [Unofficial] (@vechainitalia) May 22, 2019
May 22th, 2019 – Our own private detective, Waza reminds us of a big upcoming partnership that is going to be announced before the end of June.
Significant for the whole blockchain space..
What can it be?$BTC $ETH $EOS $ADA $OCE $SHA #Crypto pic.twitter.com/PQh2MV5kAs

— WaZa (@wazapepe) May 22, 2019