In this Monthly report, we will give a summary of the most important updates that happened in the VeChain ecosystem during December 2018.
VeChain
Dec 4th – Introducing VeChainThor Node tokenization. Each Node status from now on will be represented by a Token you hold in your VeChain Wallet. Using the market found inside the mobile wallet you can buy or sell a Node Status. Warning: You only buy or sell the node status, not the VET needed for that Node. Read all details here.
Dec 5th – Introduction of Swell. Swell is a third party offering VeChain powered services to the fashion and clothing industry. See the official introduction video here.
Dec 5th – VeChain partners with the Fuji MARUMO Tea Garden to verify the origin of their tea products, read more here.
Dec 16th – BIOS Middle East partners with VeChain to start offering Blockchain-as-a-Service solutions in the Middle East. BIOS provides cloud-based solutions to over 300 companies in the Middle East. Read the official press release here.
Dec 17th – VeChain releases its 5th Financial Report. Giving everyone an overview of the VET Supply as well as the expenses the Foundation has made. One of the major takeaways from the report is that the team is in no threat of instability and has both the current finances and future investments options to withstand any further downturn of the market.
Dec 24th – VeChainThor wallet version 1.3.1 has been released, allowing users to transfer their Node status to a Ledger managed address, thanks to support from Totient.
Dec 27th – Renato Grottola, director at DNV GL and member of VeChain's steering committee, was appointed as part of a blockchain taskforce by the Italian Ministry of Economic Development.
Today MISE (Ministry of Economic Development) announced the appointment of a team of experts to spearhead blockchain development in Italy. @rgrottola, Global Digital Transformation Director at @DNVGL and member of @vechainofficial steering committee, will be part of it.#VET pic.twitter.com/ecHXzOeJr9

— VeChain Italia Unofficial (@vechainitalia) December 27, 2018
Dec 28th – VeChain announces a partnership with two technology service providers located in China.  Shanghai Houlianhui Information Technology provides digital certification services. Zhongshang Beidou provides supply chain management solutions including blockchain-as-a-service. Unfortunately, at the time of writing this overview, no English source is available for these partnerships, since it was only published on VeChain's China focussed social media accounts.
Ecosystem Projects
Dec 11th – Decent.Bet mainnet is live. Everyone from licensed jurisdictions can now play the various slot games the Decent.Bet platform has to offer. Check out the Decent.Bet platform here.
De 12th – Safe haven's CEO Logino Dujardin publishes a message for the Safe Haven Community. In the message, Logino looks back on how they moved to the VeChainThor platform during 2018 and how their ICO sold out in minutes. Throughout 2018 the team was solidified and the development of their main products took place. In 2019 the Trust Alliance Network and Inheritance Platform will be released, making Safe Haven the go-to service provider for these asset management solutions.
Dec 14th – OceanEx lists Safe Haven (SHA) as the first Ecosystem project on its exchange. Throughout the month of December OceanEx has run various promotions around the listing. Click here to learn more about Safe Haven
Dec 19th – Plair releases a recap of everything they have been doing in 2018. They also give an update of what we can expect in the first quarter of 2019. The beta test of the Plair platform will start in January 2019, with the platform officially releasing in March 2019. Read the complete write-up here.
Dec 21th – Safe Haven was invited to showcase their solutions to one of the big four consultancy firms KPMG.
Showcasing our solutions to one of the big four in Cyprus. Thank you @KPMGCyprus for giving us the opportunity to have a fruitful discussion! #VET #SHA pic.twitter.com/FvUDbNjC4s

— Safe Haven Foundation (@SafeHavenio) December 21, 2018
Dec 23th – Safe Haven releases its roadmap for the first half of 2019. The main highlights of it are that in Q1 the Safe Haven web wallet will be released, next to the rollout of the Trust Alliance Network (TAN) across Europe. The beta of Safe Haven's Inheritance Platform will also be released in Q1. In Q2 the TAN will be rolled out across the United States. We will also see the release of ThorPay, SafeID and ThorBlock V2 in Q2.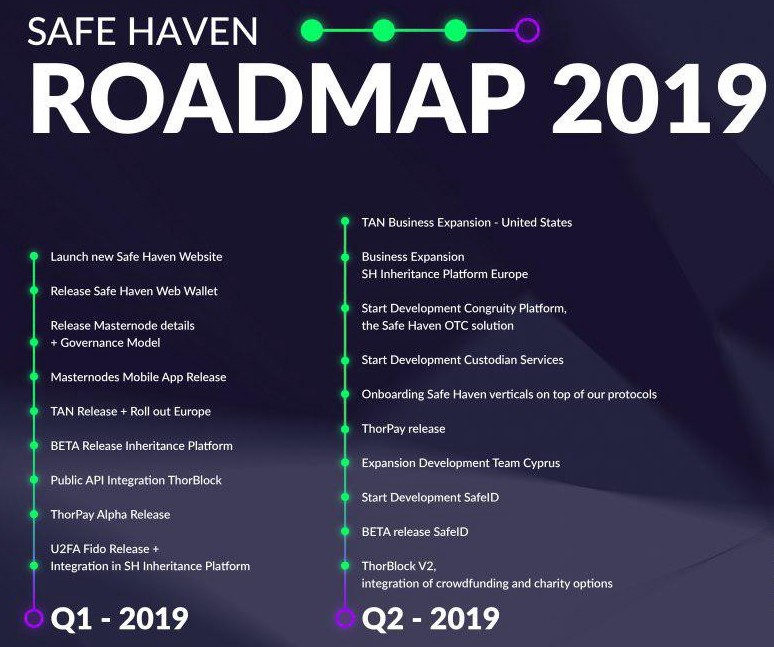 Dec 27th. – CEO of MustangChain and the Cecil Alliance, Danny, releases a short demo of their Equine Passport solution.
A demo for our partners in the equine industry. This can also be leveraged to the pet industry, for example dog passports that will be mandatory in 2020 in the Netherlands. Easy to fraud paper passport or badass digital dog passports? $CECIL $VET  $SHA $CAH $PLA $DBET $OCE $BTC pic.twitter.com/UPwQf0V2qw

— Danny van de Griend (@DannyGriend) December 27, 2018
Team members
Stay up to date with the most important tweets of the team members in this section.
That's pretty awesome. Devotion to VeChain Ecosystem! Guess whose leg and whose office? @NanXiaoning #VET #OCE pic.twitter.com/g1L1TYnT1F

— Sunny "No-Any-Promotion-Link" LU (@sunshinelu24) December 20, 2018
8PM @ChannelNewsAsia "Why It Matters 2" uncovers how #blockchain can help in #provenance of food. Part 1 features @bettrbarista & me , Part 2 features @kfeng027 giving a tour of @vechainofficial office in Shanghai, & D.I.G's retail store https://t.co/K9P8fQrSm8 #GoVeChain

— Sarah (@mspandorah) December 10, 2018
Meet @aya01april , the lead behind the blockchain initiative at @fujiteamarumo . Thank you for choosing @vechainofficial !
The 5th generation tea maker wish to use #Blockchain to safeguard the integrity & authenticity of his premium 🍵 tea leaves. #goVeChain #VeChainJapan pic.twitter.com/6vwLNB7lL4

— Sarah (@mspandorah) December 7, 2018
We wish you all a Happy New Year!

👉Visit https://t.co/JMv30MImB0

🎉Create your own New Year Wish Postcard

🎁Send it to any #VeFam members to win a VET prize!

Here are 3 post cards we made! pic.twitter.com/psVpX6Myg8

— VeChain Foundation (@vechainofficial) December 29, 2018
Community
Dec 3rd – Boxmining having a look at a pair of Sneakers that have integrated VeChain technology.
Best use of blockchain is real life use 🤩 – with @vechainofficial's help, these sneakers are impossible to counterfeit. An NFC tag is sewn into the shoe with a private key that's recorded on Vechain's Blockchain. $VET Now if only they have it in my size….😱😱😱😱 pic.twitter.com/NgFuZrsq5c

— boxmining (@boxmining) December 3, 2018
Dec 7th: Some great video's from the Innersect event, where various companies showcase products that have integrated VeChain technology.
Another #VeChain integrated brand…. #AdoptionIsHere #innersect2018 $VET Want to see more? pic.twitter.com/0goWVtXIM3

— DontShowMeTheMemelines (@DMemelines) December 8, 2018
Edison Chen with the #VeChain integrated #Nike 兵马俑 (Terracotta Warrior. #AdoptionIsHere pic.twitter.com/EeEGGIFzDg

— DontShowMeTheMemelines (@DMemelines) December 10, 2018
Dec 19th – Detective WaZa found something interesting. George Kan, representing DNV GL, (and part of VeChain's steering committee!) has signed a blockchain related partnership with Tencent.
Interesting.@DNVGL George Kang (VeChain steering committee) signing a blockchain, artificial intelligence & more partnership with #Tencent.https://t.co/NEezPtkpl7$BTC $ETH $EOS $EOS $ADA $XRP $SHA $OCE pic.twitter.com/uE8uS3TGb1

— WaZa (@wazapepe) December 19, 2018
Dec 21th – Ben Yorke, well known in the VeChain community, has started his own VeChain website called vechain101.com, be sure to check his site out or follow him on Twitter. He has some great information and articles on VeChain!
Dec 27th – Community Legend "Kermit" wins the OceanEx Got Talent event with this great gif.
Safe Haven $SHA on #OceanEx YAAYYY!!!
I hope my bros @NanXiaoning @CryptoLogino @a_demeulemees @sunshinelu24 @mspandorah @BangCryptoBang @Kelmandacom @kfeng027 @wazapepe @SafeHavenio @OceanexOfficial @vechaininsider @vechainofficial like my Safe Havens GIF for the OceanEx comp 😍 pic.twitter.com/ZqYCjWXxMZ

— Kermit's Pink Fingers (@Kermits_PF) December 17, 2018
Dec 31th – A great overview of how the amount of transaction have steadily increased in the past few months, I can't wait to see what 2019 has in store for us!
The #VeChain mainnet isn't just warming up – it's going off like New Year's Eve fireworks! @vechainofficial is going a great job so far, let's see where those numbers are heading in Q1 2019. Happy new year #VeFam! $VET pic.twitter.com/bnGROSfXSN

— Tim | Cryptolyze (@hh_tim) December 31, 2018
Dec 31th – Plair featured in one of Boxmining's videos:
So much has happened last month, that I probably missed some things. Do you miss something? Please share it with us in the comment section below!