In this Monthly report, we will give a summary of the most important updates that happened in the VeChain ecosystem.
VeChain
Nov 1st – During the China International Gas & Heating Technology Exhibition 2018, a partnership with Shanghai Gas (a state-owned company) and ENN (one of the largest clean energy distributors in China) was announced. Together the three parties will design and implement a blockchain powered system to manage the quality assurance process throughout the transport of LNG. Read more here.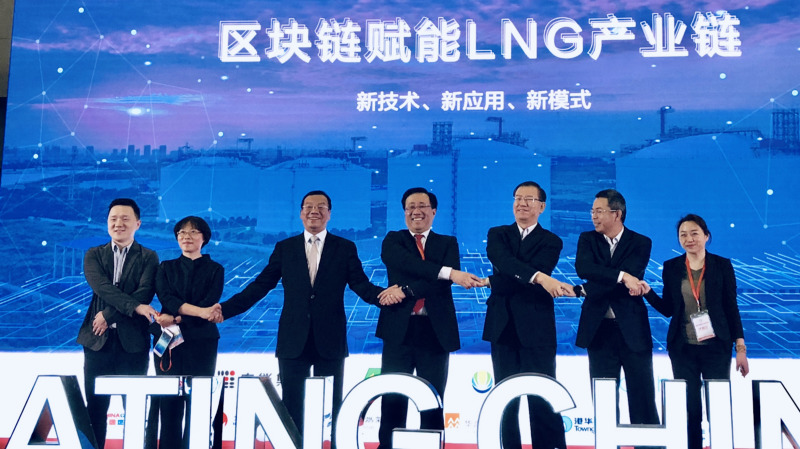 From Nov 5 till Nov 10 the first-ever China International Import Expo (CIIE), with the participation of over 2800 companies and over 300.000 visitors was held. During the Expo, VeChain and DNV GL presented their 'My Story' as well as a Carbon banking solution. Read more about the solutions presented here.
Nov 7th – Bright Code, a localized version of My Story, was introduced by the General manager of Bright Food. Bright Food is the second largest food manufacturing company located in China. Bright Code utilizes the technology provided by VeChain to build a consumer confidence index, generated by an independent third party organization, collecting data on events throughout the entire lifecycle of their products.
Nov 9th – A video introducing the Digital Carbon Platform by VeChain and DNV GL:
Nov 12th – InvestCyprus, the institute that manages the investments from abroad for the government of Cyprus, together with the VeChain Foundation and CREAM have announced the signing of a memorandum of understanding. Together they will work on a legal framework that will regulate blockchain technology, as well as explore how to implement blockchain technology throughout the government of Cyprus.
Nov 20th – VeChain wins the "Global Scaling Award 2018"  during the Draper venture network blockchain expo hosted by Draper Dragon.
Ecosystem
Nov 6th – Safe Haven (SHA) has been listed on the LATOKEN exchange, making it the first exchange to list SHA after its ICO.
Nov 8th – Totient Labs announces Comet, a wallet that will enable dApps to be used from your web browser similar to MetaMask for Ethereum. Comet will support both Web3 as well as Connex, providing developers with a powerful platform to create dApps on the VeChain platform. Read more here.

Nov 16th – After a successful private and community sale, the Plair Public sale was officially sold out and completed.
Nov 19th – The OceanEx exchange has officially been launched. Read our post about the launch and the current reward and promotion programs here.
Team members
Stay up to date with the most important tweets of the team members in this section:
Last Sunday , the @DNVGL and VeChain digital carbon ecosystem received a lot interests from alliance and government reps of 13 Asian countries in the Clean Air Technology workshop hosted at Qingdao Olympic Sailing center. Awesome venue, beautiful city. pic.twitter.com/JnEpTrbs1U

— Kevin Feng (@kfeng027) November 6, 2018
Another ecosystem application is on the way to people's daily life. That's how mass adoption means for real. https://t.co/JGQcSkRiMx

— Sunny "No-Any-Promotion-Link" LU (@sunshinelu24) November 6, 2018
Thank you everyone for the devotions and fruitful achievements. And let's hit the road for more. If you love, cheer with us. If you hate, make us better. THANK YOU ALL! #ThanksgivingDay2018 #VeFam pic.twitter.com/en7u1m5gmp

— Sunny "No-Any-Promotion-Link" LU (@sunshinelu24) November 23, 2018
Community
Below you can find the best tweets from the VeChain community for this month:
Hi guys, saw, a lot of confusion yesterday about @DNVGL and their Carbon Bank and Bright Code announcement, so hope this clears it up a bit… This talks a little bit about the project, and tries to approach the subject from an unbiased viewpointhttps://t.co/oumUOOkfxj

— Ben Yorke (@BenYorke) November 8, 2018
Picked this bottle up today from D.I.G wines. This bottle has an #NFC anti-counterfeiting tag. The antennas must be cut to open the bottle and the tag cannot be removed without destroying it. Anti-counterfeiting and traceability together. #AdoptionIsHere #Blockchain $VET $VTHO pic.twitter.com/biNUPpOgKQ

— DontShowMeTheMemelines (@DMemelines) November 12, 2018
Looks like H&M's Arket is embracing blockchain at their Arket Stores, see for yourself! @arketofficial @hm @vechainofficial #blockchain #vechain #fashion #adoption #shopping #london $VET $VTHOR pic.twitter.com/jd3CKZfK2u

— Dimitrios Neocleous (@_DiNeocleous) November 15, 2018
People are asking for more products.Well I present to you the #VeChainXSBTG II-Shadow Fury! When my adidas sneakers are verified on the VeChain blockchain @vechainofficial !Amazing shoes by @OfficialSbtg! #VET #SBTG #blockchain #adidas #vechain #fashion #adoption $VET $btc $eth pic.twitter.com/HNNUQYqoby

— Dimitrios Neocleous (@_DiNeocleous) November 29, 2018
This is the first overview of this kind, if you would like us to do this more often, please let us know by leaving a comment below!